Kotomisi dolls
Kotomisi dolls are a sort of traditional-dress doll. They were probably made by Surinamers at the request of 'tourists', who could then take them to Europe to show what the local population in Surinam wore. But this story isn't completely right… Read all about the facts and attire of this magnificent toy here.
Koto on the Clifford Kocqshoven plantation
Plantation holder Gaspar van Breugel went to a party of enslaved workers on his Clifford Kocqshoven plantation in 1824, a party which turned into a winti ritual. There was music and dancing for three days and nights. This inspired him to have a set of miniature instruments and six dolls depicting the dancers made. He wrote that the women were 'dressed like a pattern book'. He gave these dolls to his daughter and nieces to play with, with the idea of showing how well dressed his enslaved workers were but in reality this was not so. These were special clothes for special occasions. 
Kotomisi doll Amba
The name Amba is embroidered on this kotomisi doll's apron. It's a name of African origin which enslaved people introduced into Surinam. Amba means Saturday. Until around 1950 children were often named after the day they were born on.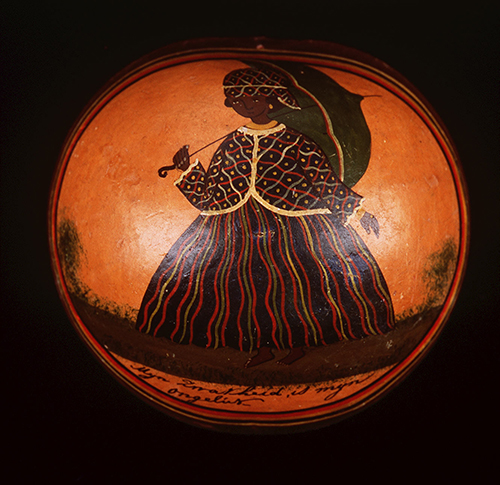 From everyday wear to clothes for special occasions
The kotomisi dolls and illustrations show that clothing styles varied greatly in the period of slavery in the 18th and 19th centuries. The upper part of an enslaved woman's body was naked or she wore a top. Voluminous skirts were already in fashion. Volume signified status and power in European styles of clothing at that time, as worn by the White but also Black elite and people of colour. This was no different in West-African clothing styles. At the end of the 19th century a koto was everyday wear, which closely followed fashion. Later it was for special occasions and a form of authenticity became important. 
Want to see more koto and kotomisi? Then click here
Lots more information about the koto and kotomisi dolls is available on the Modemuze online platform. The NMVW is a partner of Modemuze, a platform where our curators and other professionals publish blogs about fashion designers, fashion and 'less-than-new' clothing and clothing accessories. Our collection of clothes and clothing accessories can be seen on Modemuze. The platform is in Dutch with an English summary.